Mini Spartan Academy
"ON YOUR MARK, GET SET, GO MINI SPARTANS!"
Instill the values and importance of health, strength and endurance with fitness! It's never too young to be fit, never too small to be strong. Get your child started with our Young Spartans program today and train to take part in The Mini Spartan Race.
Corporate Bootcamp
"A TEAM THAT WORKS OUT TOGETHER, WINS TOGETHER"
Break away from the demands of your stressful office. Rejuvenate your work-week and get fitter together with your colleagues through our fun-filled fitness bootcamps and team bonding sessions.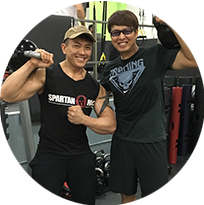 Personal Training
"ACHIEVE YOUR HEALTH AND FITNESS GOALS"
Are you looking for a fitness inspiration or in need of a personalised one-on-one coaching? Let our highly trained fitness coaches take you on a journey towards holistic well-being and help you strive towards overall health and physical fitness. Sweat your way to a better and stronger you today!
Want your own fitness coach?