"A TEAM THAT WORKS OUT TOGETHER, WINS TOGETHER"
We know it is not easy to stick to a workout routine going solo. Especially when you have monthly KPIs to hit and tight project deadlines breathing down your neck. Hence at The Movement Factory, we are here to help simplify your fitness aspirations by bringing fitness right to you and your fellow colleagues.
You will get access to top quality coaches who will carefully plan and design a group workout program to challenge your fitness level and keep you coming back for more. On top of that, our group training sessions are great ice-breakers for co-workers across different corporate hierarchy and departments to bond and achieve a deeper sense of cohesiveness.
To the company bosses out there who may be pondering if they should sign their employees up for this program, I must remind you that a healthy and fit employee is usually more productive, takes less medical leave and therefore helps keep your corporate medical insurance premiums lower. Now this is truly a win-win situation that you can't afford to miss!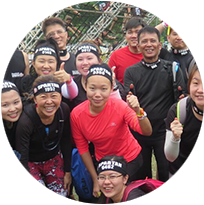 "A team of 30 of us from our group of Companies embarked on a 12-week bootcamp training regime with Clarence to prepare us for the Spartan Sprint SG Race 2017. Throughout the entire training regime, we built not only ourselves, in terms of mental and physical strength but I also observed demonstration of Unity, Teamwork, Leadership and Excellence which are values that we wanted to inculcate in the team members.
Clarence had been patient, exercised safety and helped us pushed ourselves beyond limits that we didn't realize we could. Thanks to him, our team of 1st timers were all ready and gearing for the race on race day…and every single one of us accomplished our goals.
And on Spartan Race day held on the 6th of May... Camaraderie, sweat and tears of joy, and relentless pursuit of perseverance to finish the race; No man was left behind - Everyone of us conquered the race… AROOOOO!!"
Sylvia Zhuo, HR Business Partner, SPD Scientific Pte Ltd
Want your own fitness coach?